About Us
The Society of Nepalese Professionals-UK, initially known as Society of Nepalese Highly Skilled Migrants-UK was conceptualised in December 2008 and came into existence in February 2009 as a membership organisation with following aims and objectives. With slight amendment of its name as Society of Nepalese Professionals-UK (SoNP-UK), our society has been trying to organize the likeminded professional members of the Nepalese community lliving in the UK into it.
Society of Nepalese Professionals-UK organises various interactive activities to promote cultural, educational and welfare issues that might be of interest to Nepalese living in the UK.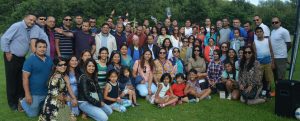 Society's Objectives:
Play key role in the advancement of community by taking leadership in facilitating and sharing ideas, information, knowledge and experience among the members of the Society and wider community.
 Act as a platform for the advancement of various aspects such as education, arts, culture, heritage by conducting various activities and events dedicated to education, arts, culture, heritage.
The advancement of health and general well being by promoting various activities that have a proven beneficial effect on health and well being of the community people.